HiTech Financial Accounting Software
---
Transactions in Accounts
inatra.bmp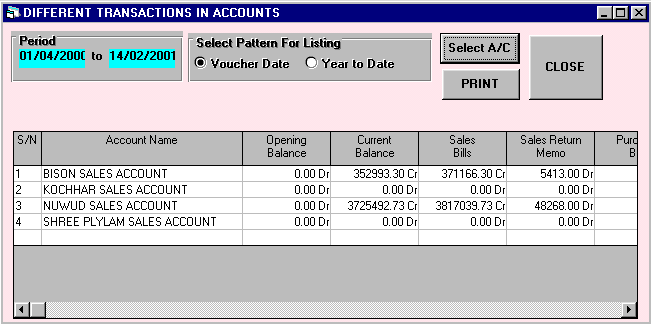 Transactions in Accounts - From a stand-alone, popular accounting software to an enterprise-wide accounting system for multiple locations of your enterprise. Visit us for free download. - HiTech Financial Accounting Software Download - Accounting - Powerful and Easy accounting, Accounting Package, Free accounting, Company account Manager, solution for stock handling and billing management control, Barcode support inventory. No special barcode printer is required to print barcode. Small Business Accounting Software and Online Payroll Accounting, Small business accounting software that allows you to keep track of expenses, invoice clients and manage payroll, all online. Purchase business accounting.
To see the different transactions in account over a period of time select the option
Account Analysis / Transactions in Account
under the main menu option
Accounts
.
A window will be displayed for Transaction in accounts. First of all click on
Voucher Period
to select the period, for help refer
Period Selection
. If you select
Year to Date
then automatically the period selected will be from the start of financial year to the current date.
Select the account whose transaction is to be seen, for this click the button
Select A/C
and select the account by the double click of the mouse. Once the period and account is selected following information of account transaction will be displayed like: Account name, Opening, Current, Sales, Sales return, Purchase, Purchase return, Payment, Receipt, Journal, Contra.
To print the report refer
Print Using HiTech Print Engine
To exit from the window select the button at the right hand side of the window.