HiTech Financial Accounting Software
Customized for business and trading houses
Print Using HiTech Print Engine (Information Export Panel)
iepanel.bmp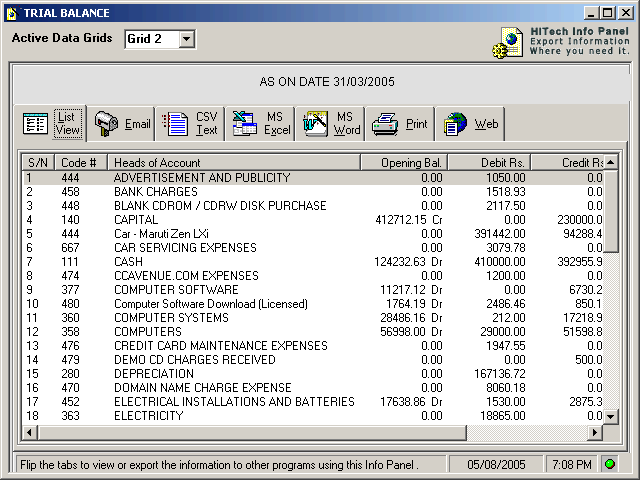 Print Using HiTech Print Engine - Use Business Accounting and Web applications to increase profitability through enhanced business management. Visit us for free download of software. - HiTech Online | resources for accounting software systems, products, HiTech Online is a web resource that enables businesses looking for accounting software systems to research accounting software for various business segments, web based accounting software. HiTech Business Software - Point of Sale, Nonprofit and Accounting, HiTech Computer services provides accounting software, payroll, point of sale, job cost, e-commerce, nonprofit accounting, fund accounting, and business.

When you give the Print command from any report displayed in a grid another window will open with several tabs marked the following: List View, Email, CSV Text, MS Excel, MS Word, Print and Web .

The list view format allows you the sort the report columns by clicking at the column header.
With the email tool you can send the report by email. You can also attach the report as file in one of the following formats: Word, Excel, HTML, CSV Text. You can also attach any other file from the disk. This is a very handy tool for emailing the complete report to anyone in a very handy way.
The data records can also be converted to CSV text that can be used as data source in a mail-merge program like MS word.
You can also export the report in a formatted way to MS word and MS Excel. All exports are done automatically at the touch of a button.
Preview of report and printing can also be done. The report can be previewed with selected fonts and can be printed on laser or inkjet printer. In Dot matrix printer the printing is also possible in draft (dot matrix) mode.
Finally the report can be exported to HTML file and the file can be uploaded to a web server. You need the password and username for the FTP server on web.

Mostly all reports in the program are displayed in grids and these grids are exported to imformation export panel. If there are more than one grid in the report you can select the grid to be displayed from the combo marked Active Data Grids .

You can export or print the report displayed in grid using one of above listed tools/interfaces. Please see more details of each item below.

List View

Iepanel_listview.bmp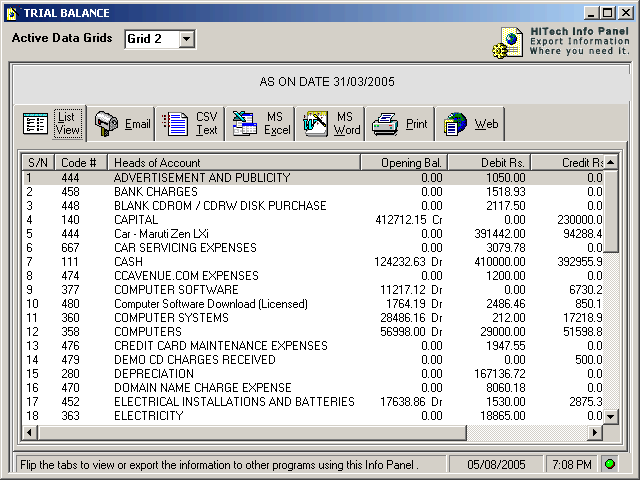 Print Using HiTech Print Engine - HiTech offers an integrated suite of Accounting & ERP software, CRM software, and Ecommerce software. This #1 on-demand business software suite can help your business. - Free Accounting Lessons - Free Accounting Software Download, Accounting - sequential online bookkeeping lessons, Intro to Accounting - Simple - a complete online accounting course for beginners learning computerized accounting. Financial Accounting Software, (FAS), Web based Accounting, HiTech 's FAS (Financial Accounting software) is a web based accounting software for global access to your financial accounts. FAS can be used globally from any computer using internet browser.

When you click this tab marked List View the columns of the report grid are re-displayed in list view format. The advantage of list view format is that the column of the listview can be sorted by clicking at the column header.

Email

Iepanel_email.bmp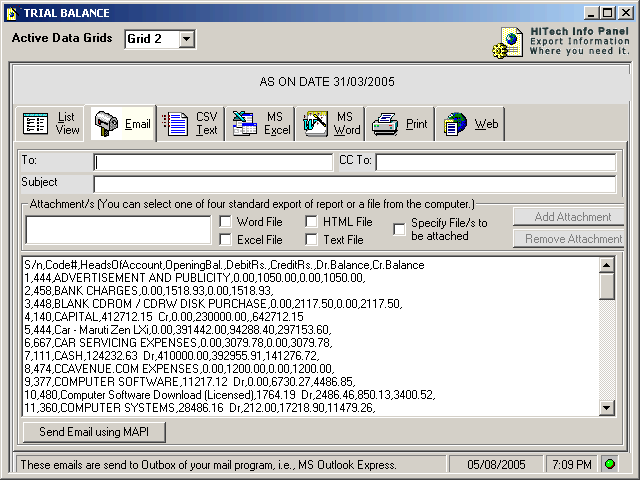 Print Using HiTech Print Engine - Download business, business work, free business accounting, finance, plan, card, small, payroll software. - HiTech Group: Accounting software, business management software, Security Industry accounting software, Alarm dealer accounting software, systems integrator accounting software, AlarmKey software and job cost software, accounting software for hotels, hospitals. HiTech - Business Accounting Software, Invoicing, Inventory Control Software, HiTech - Business Accounting Software. HiTech is a premium Business Accounting Software providing comprehensive computerized accounting for any kind of entity.

To email the report click this tab marked Email . In the frame that is displayed the report in included as message text after being converted to CSV text. You can also click one of the check boxes marked Word File, Excel File, HTML File or Text File to included the report file at attachement after being converted to the selected format. You can attach any other file by clicking the check box marked Specify File/s to be Attached the command buttom marked Add Attachment shall be enabled. You can click it to select the file to be attached. To remove an already included attachment click the command button marked Remove Attachment .

Specify The Email To address in the given text box. CC To address (copy to) and the Subject can also be specified.

To send the email press command button marked Send email using MAPI . To send email your email client shall be fully configured. You will find the emails in the outbox of your email client. You may have to go to your email client and send all emails in the outbox if the email client does not do it on its own.

CSV Text

Iepanel_csvtext.bmp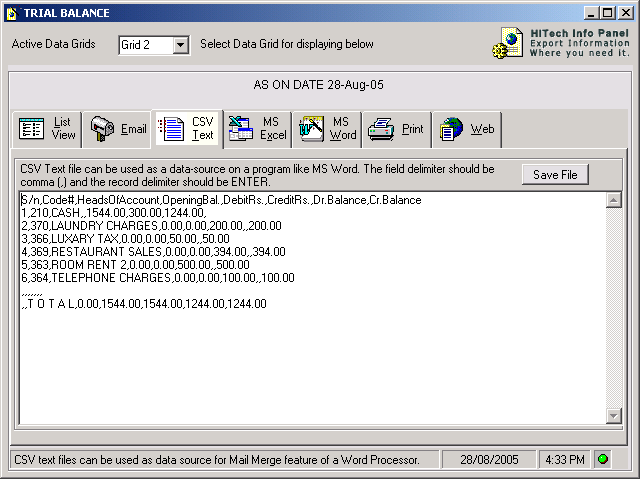 Print Using HiTech Print Engine - Accounting Software For Invoicing, Business Accounting Software and Web Applications - HiTech Financial Accounting Software Download - Accounting - Powerful and Easy accounting, Accounting Package, Free accounting, Company account Manager, solution for stock handling and billing management control, Barcode support inventory. No special barcode printer is required to print barcode. Small Business Accounting Software and Online Payroll Accounting, Small business accounting software that allows you to keep track of expenses, invoice clients and manage payroll, all online. Purchase business accounting.

CSV Text can be used as data source for a mail-merge function of a word processor like MS word. To convert the report to CSV Text Click this tab marked CSV Text . The converted file shall be displayed. To save the file press the command button marked Save File .

MS Excel

Iepanel_excel.bmp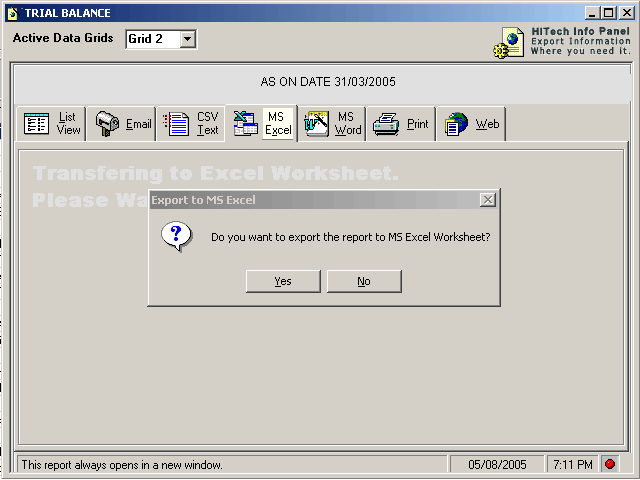 Print Using HiTech Print Engine - Web or PC based Accounting software for many business segments, customized software, e-commerce sites and inventory control applications for traders, dealers, distributors of consumer, medical goods. - HiTech - Online Accounting Software, Business Accounting Package, A Web based Accounting Package designed to meet the requirements of small and medium sized business. This web based software is extremely handy in automating the routine accounting tasks. Online Accounting Solutions and Professional Internet Accounting, Find Accounting Solutions for professionals and businesses which will assist your company in tracking accounting and financial tasks. Global business management by web based applications.

Click this tab marked MS Excel to export the report to MS Excel worksheet. A message will prompt you to export the report, answer lquote Yes' to export the report to MS Excel format. The formatted report shall be displayed in a new MS Excel window created by OLE.

MS Word

Iepanel_word.bmp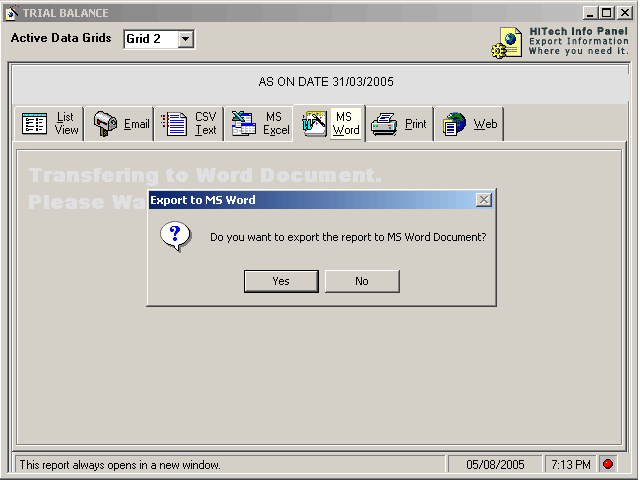 Print Using HiTech Print Engine - HiTech is the popular Business Accounting software in India, HiTech Software incorporate Excise for Traders, TDS, Service Tax, & VAT with multiple company and multi user support. - HiTech Online | resources for accounting software systems, products, HiTech Online is a web resource that enables businesses looking for accounting software systems to research accounting software for various business segments, web based accounting software. HiTech Business Software - Point of Sale, Nonprofit and Accounting, HiTech Computer services provides accounting software, payroll, point of sale, job cost, e-commerce, nonprofit accounting, fund accounting, and business.

Click this tab marked MS Word to export the report to MS Word document. A message will prompt you to export the report, answer lquote Yes' to export the report to MS Word format. The formatted report shall be displayed in a new MS Word window created by OLE.

Preview and Print

Iepanel_pprint.bmp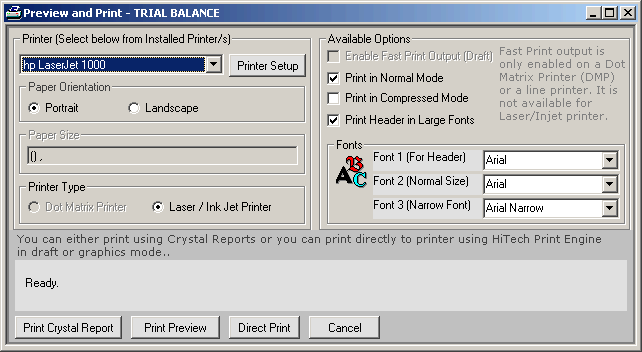 Print Using HiTech Print Engine - Accounting Software In India, Top 20 Accounting Systems and Accounting Software from HiTech - Free Accounting Lessons - Free Accounting Software Download, Accounting - sequential online bookkeeping lessons, Intro to Accounting - Simple - a complete online accounting course for beginners learning computerized accounting. Financial Accounting Software, (FAS), Web based Accounting, HiTech 's FAS (Financial Accounting software) is a web based accounting software for global access to your financial accounts. FAS can be used globally from any computer using internet browser.

To print the report press command button Print . This will open the print dialog or the Information Export Panel. Press the tab marked Print to directly print or preview and print the report.

All the configured printers shall be shown in the drop down list marked Select Printer . You can select the printer from the list.

The available option for that printer shall be displayed below in the frame marked Available Options . The option that you may change shall be enabled and some options that are automatically set shall remain disabled. You can select the paper orientation. After making this setting you may need to restart the program. If you desire fast printing then please use a dot matrix printer. When you configure printers your printer shall be detected if it has dot matrix fonts. Dot matrix fonts are only available on dot matrix printer (DMP) or a line printer. the check box Produce Fast Print Output shall be checked if you using a dot matrix printer. You can use this when you have installed a DOT matrix printer. You must also select three fonts in the menu command Confgure Printers under main menu Utilities as given below:

Font 1 : To be used for Header of the reports which displays the main body of the font. The size is selected automatically. You can change the name of the font.

Font 2 : Normal Size font name to be used for main body of the report. which displays the main body of the font. The size is selected automatically. You can change the name of the font. For dot matrix printers the suitable values shall be shown in the drop down list for selection. For Ink Jet or Laser Printers a suitable value for the font is Arial. For Dot Matrix Printers set Font2 = Roman12 cpi or Draft 12cpi, Font3 = Roman 17cpi or SanSerif 17 cpi. These are cpi fonts and a newer font like courier new can also be used.

Font 3 : Compressed Size font name to be used for main body of the report. which displays the main body of the font. The size is selected automatically. You can change the name of the font. For Ink Jet or Laser Printers a suitable value for the font is Arial Narrow. For Dot Matrix Printers set Font2 = Roman12 cpi or Draft 12cpi, Font3 = Roman 17cpi or SanSerif 17 cpi. These are cpi fonts and a newer font like courier new can also be used.

Please note fast printing only works when you have selected dot matrix fonts. Window based graphics have much better print quality and the printing is slower. For this printing on dot matrix printer set your DMP as laser/ink jet printer and you shall be able to print using the selectable graphic fonts.

See more details in Confgure Printers .

In case of fast printing you have to select the mode of printing, click check box Print in Compressed mode to get the print out in compressed mode or click the check box Print in Normal Mode to get the print out in normal mode. If you desire company name header in large fonts click the option Print Company Name Header in Large Fonts . Click the command button Preview and then press Print to send job to printer otherwise click command button Cancel to abort printing. If you want to print without previewing and the HiTech Print Engine will give you the desired printout.

Iepanel_pprint.bmp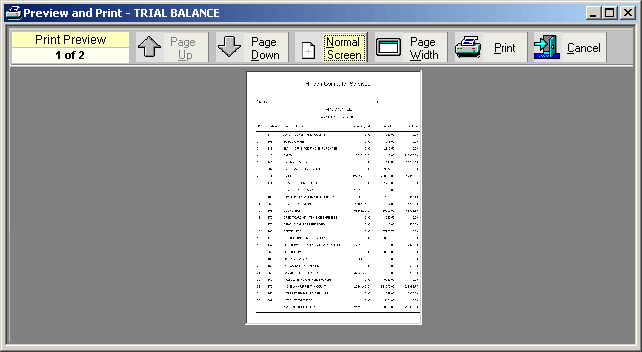 Print Using HiTech Print Engine - Accounting Software Canada, Financial Accounting Software and Web based Applications - HiTech Group: Accounting software, business management software, Security Industry accounting software, Alarm dealer accounting software, systems integrator accounting software, AlarmKey software and job cost software, accounting software for hotels, hospitals. HiTech - Business Accounting Software, Invoicing, Inventory Control Software, HiTech - Business Accounting Software. HiTech is a premium Business Accounting Software providing comprehensive computerized accounting for any kind of entity.

You can also preview the report before printing. Preview is generated for all pages for the selected font. You can also view Full Page and Page Width . To print the report press command button Print . This will print the report.

Web

Iepanel_web.bmp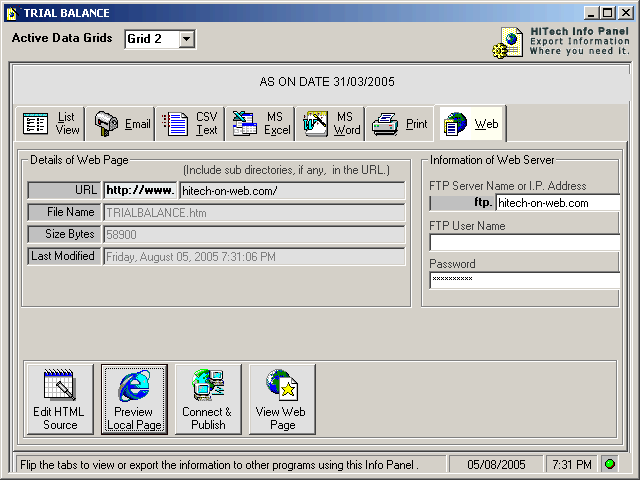 Print Using HiTech Print Engine - Bar code inventory control solution. for managing inventory in your stock room, warehouse or distribution center by tracking inventory as it is received, and dispatched. Accounting module is also included. - HiTech Financial Accounting Software Download - Accounting - Powerful and Easy accounting, Accounting Package, Free accounting, Company account Manager, solution for stock handling and billing management control, Barcode support inventory. No special barcode printer is required to print barcode. Small Business Accounting Software and Online Payroll Accounting, Small business accounting software that allows you to keep track of expenses, invoice clients and manage payroll, all online. Purchase business accounting.

Click this tab marked Web to view the report in the HTML format that can also be published on web. You shall be prompted everytime if you want to overwrite the file. You can either preview the local file by clicking the command button marked Preview Local Page to preview the file in your browser or you can press the command button marked View Web Page to view the uploaded HTML file on the web server. Before upload you can also edit the HML source of this report file by clicking the command button marked Edit HTML source .

To upload the file please provide the URL (domain name and directory, for example, freeaccounting.in), FTP server host name, FTP user name and password. Press command button marked Connect and publish to connect to internet and to upload the HTML file.