HiTech Financial Accounting Software
---
Displaying the Ledger
Ledger : Displaying / Printing, How To Display Ledger, Accounts Module
inaldg.bmp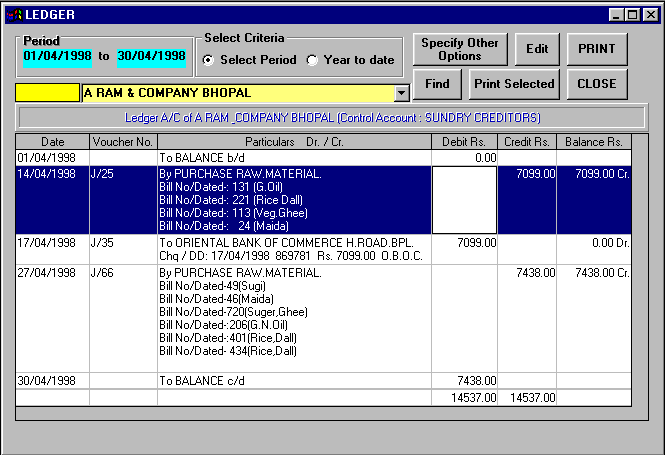 Ledger : Displaying / Printing; How to Display Ledger; Accounts Module - Accounting software and Business Management software for Traders, Industry, Hotels, Hospitals, Supermarkets, petrol pumps, Newspapers Magazine Publishers, Automobile Dealers, Commodity Brokers etc. - HiTech - Online Accounting Software, Business Accounting Package, A Web based Accounting Package designed to meet the requirements of small and medium sized business. This web based software is extremely handy in automating the routine accounting tasks. Online Accounting Solutions and Professional Internet Accounting, Find Accounting Solutions for professionals and businesses which will assist your company in tracking accounting and financial tasks. Global business management by web based applications.
To display Ledger give Menu Command
Ledger
. Ledger window will be displayed. By default the ledger is displayed for the up to date current financial year. This period is displayed in the frame marked period.
Press the option button
Year to Date
to display the ledger from start of the financial year to current date.
Any period can be selected for displaying ledger of that period. To select period press option button
Voucher Date
. Enter the two dates in the text boxes which will be displayed. Press option button
Year to Date
. The ledger of selected period will be displayed for selected account name.
Account name can be selected in three different ways.
1. Type the account name in Drop Down Combo (DDC) box or select the name after clicking the downward arrow button to the right of DDC box.
2. Type the code number, in text box adjacent to DDC box, of the account name you want to display. If the code is valid account name of the code will appear in DDC box automatically. Press enter to get the data displayed or click option button
Year to Date
. The code in the text box get highlighted. It means text box is ready to take another code entry. If the code is invalid no name will be displayed in the DDC box.
3. Click on command button
Select A/C
. It will show the list of the account name and their codes. You can select any one from the list and press
O.K
. To add new account name in the list click on command button
New/Edit
. If the account name does not contain entry for selected name it will display a message saying "A/C name not found" with account name given below. Remember account name and its codes should be unique.
medled2.bmp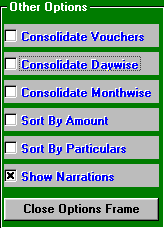 Ledger : Displaying / Printing; How to Display Ledger; Accounts Module - Web based e-Commerce, Accounting and Business Management Software for all sizes and types of business. Globally accessible applications that will run in your browser. Cost effective and reliable. - HiTech Online | resources for accounting software systems, products, HiTech Online is a web resource that enables businesses looking for accounting software systems to research accounting software for various business segments, web based accounting software. HiTech Business Software - Point of Sale, Nonprofit and Accounting, HiTech Computer services provides accounting software, payroll, point of sale, job cost, e-commerce, nonprofit accounting, fund accounting, and business.
The command button
Specify Other Option
will display the list of option button as shown above. Press appropriate option button if you want to display Ledger according to one of the five criteria for listing: Consolidate Voucher, Consolidate Day wise, Sort by Amount, Sort by Particulars and Show Narrations.
When you consolidate vouchers then transactions having same debit or credit account head during the day will be consolidated and only the total will be displayed against that account head and the vouchers numbers will appear in the narration. For example all your cash sales of the day will be consolidated with all the invoice numbers showing in the narration. To display Ledger with consolidated vouchers check ( X ) the check box marked Consolidate Vouchers and then press the option button
Year to Date
. The ledger with consolidated entries will be displayed.
To display consolidated Ledger check ( X ) the check box marked consolidate day wise and then press the option button
Year to Date
. The consolidated ledger will be displayed. It will show all entries for the selected period with the closing and opening balances calculated for each day.
Ledger entries can also be sorted by Particulars or Amount. Check ( X ) the appropriate check box and then press the option button
Year to Date
. The ledger with entries sorted according to particulars or amount will be displayed. Sorting will be done in ascending order.
If you want to see the narrations along with each ledger entry then check ( X ) the check box marked Show Narrations and then press the option button
Year to Date
. The Ledger along with the narration for each entry will be displayed.
To close this option list click command button
Close Option Frame
.
If you want to list ledger of all accounts name for the selected period press the command button
All A/C
and then
O.K
for the displayed message.
If you press enter key or double click after selecting a ledger entry then the concerned voucher / invoice / memo will be opened for review if you answer yes to the message which will be displayed. This windows will open when you press enter key or double click with the mouse on the grid.
To display the ledger account click the command button
Print Selected
.
indl1.bmp

Ledger : Displaying / Printing; How to Display Ledger; Accounts Module - Outsourced Website Design projects Website Design, Web Design Plus Programming for www.OnlineAccounting.bz, www.SoftwareDevelopment.bz type of website Featured here. - Free Accounting Lessons - Free Accounting Software Download, Accounting - sequential online bookkeeping lessons, Intro to Accounting - Simple - a complete online accounting course for beginners learning computerized accounting. Financial Accounting Software, (FAS), Web based Accounting, HiTech 's FAS (Financial Accounting software) is a web based accounting software for global access to your financial accounts. FAS can be used globally from any computer using internet browser.
A small window will be displayed with two blocks, left hand block with the heading Print Selected A/C Ledger will display all the account ledgers. If you click the button
Add All
, all the ledger will be listed, in the second block with the heading Selected Ledger A/C. From here you can delete the name of ledger accounts by clicking against the ledger and then click the Delete key of the keyboard. If you want to clear the list click the button
Clear List
. When you select the button Print Now , a message will be displayed asking : DO YOU WANT TO DISPLAY THE SELECTED LEDGER ACCOUNT ?, if you click
Yes
the processing for each selected account will start and after its completion a new window will be displayed. For each ledger account the Voucher no., Date, Particulars, Dr/Cr values will be displayed.
To print click the button
Print
and for its help refer
Print Using HiTech Print Engine
To close this window of ledger click on command button
Close
.