HiTech Financial Accounting Software
---
Preparing Trial Balance
Trial Balance : Preparing, Accounts Module,
inatrb.bmp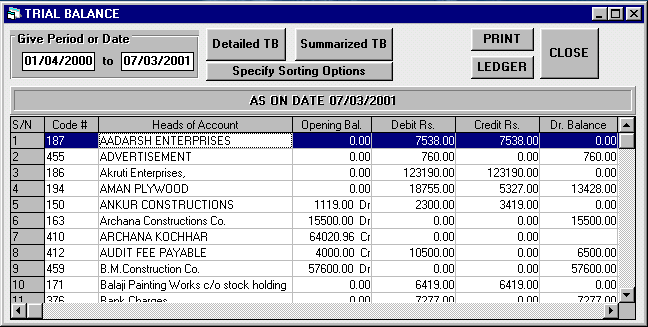 Trial Balance : Preparing; Accounts Module; - Business Accounting Software Uk, Online Accounting and Inventory Control Software - Free Accounting Lessons - Free Accounting Software Download, Accounting - sequential online bookkeeping lessons, Intro to Accounting - Simple - a complete online accounting course for beginners learning computerized accounting. Financial Accounting Software, (FAS), Web based Accounting, HiTech 's FAS (Financial Accounting software) is a web based accounting software for global access to your financial accounts. FAS can be used globally from any computer using internet browser.
Preparing Trial Balance is very simple. To prepare trial balance give Menu Command
Trial Balance
. Trial Balance window will be displayed. By default the trial balance is displayed for up to date current financial year. This period is displayed in the frame marked period.
Press the command button
Detailed TB
to display the trial balance for selected period .
Press the command button
Summarized TB
to display the summarized trial balance for selected period. The summarized trial balance will show only the control accounts where they are defined.
inatbso.bmp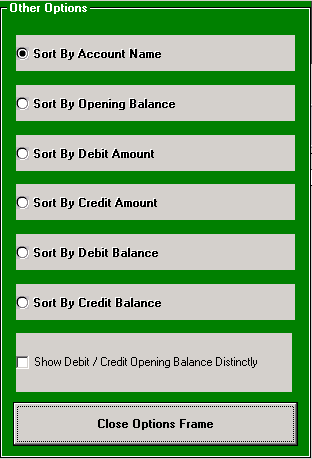 Trial Balance : Preparing; Accounts Module; - Accounting, HiTech - Online Accounting Software, Business Accounting Package - HiTech Group: Accounting software, business management software, Security Industry accounting software, Alarm dealer accounting software, systems integrator accounting software, AlarmKey software and job cost software, accounting software for hotels, hospitals. HiTech - Business Accounting Software, Invoicing, Inventory Control Software, HiTech - Business Accounting Software. HiTech is a premium Business Accounting Software providing comprehensive computerized accounting for any kind of entity.
You can also display the trial balance sorted according to one of the following criteria : Sort by Account Name ( Default ), Sort by Credit Amount, Sort by Debit Amount, Sort by Credit Balance or Sort by Debit Balance. To display sorted trial balance check ( X ) the appropriate sorting option and then press one of the two command buttons
Detailed TB
or
Summarized Trial Balance
. This feature may be useful if you want to find reasons for mismatch in trial balance. If you want to show opening balance debit and credit distinctly click the ckeck box in the Options Farme shown above.
Any period can be selected for displaying trial balance of that period. To select period press option button
Date
. Enter the two dates in the text boxes which will be displayed for help refer
Period Selection
. Press command button
OK
. The Trial Balance of selected period will be displayed.
Normally the two sides on the trial balance should agree indicating accuracy of accounts. If they disagree then individual vouchers must be checked for errors.
To select any account in the displayed trial balance start to type the name of the account when the grid has focus. As you type the matching account will be displayed in the grid. Before searching for a new name press spacebar to cancel whatever you typed before to start a new search.
If you press enter key or double click after selecting a account head then the month balances of that account head will be displayed for the review. From month balances you can open the ledger of any selected month to see the entries in the ledger. If you want to display the ledger then press command button marked
Ledger
. If the account you selected is a control account then the all account heads belonging to that control account will be displayed. Further from the ledger you can review the concerned voucher / invoice / memo. All these windows will open when you press enter key or double click with the mouse.
To print the report refer
Print Using HiTech Print Engine