HiTech Financial Accounting Software
---
Periodic Account Movements
inapam.bmp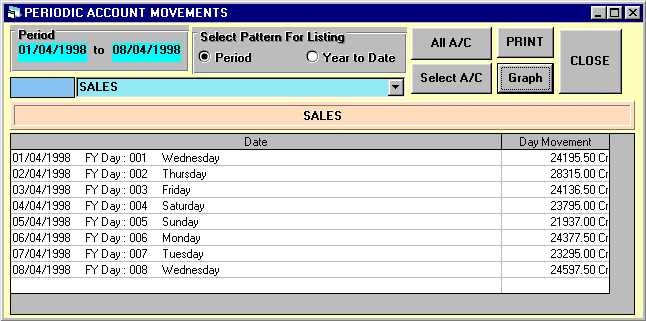 Periodic Account Movements - Search for accounting software software by industry, operating system or application. Or browse alphabetical listings based on software product or user segments like traders, hotels, hospitals, industries. - HiTech Group: Accounting software, business management software, Security Industry accounting software, Alarm dealer accounting software, systems integrator accounting software, AlarmKey software and job cost software, accounting software for hotels, hospitals. HiTech - Business Accounting Software, Invoicing, Inventory Control Software, HiTech - Business Accounting Software. HiTech is a premium Business Accounting Software providing comprehensive computerized accounting for any kind of entity.
To see the account movement on each day of a particular period of time use the option
Periodic Account balance
under the menu option
Accounts
. A window for Day account balance will be displayed, first of all click on
Period
and enter the period, for help refer
Period Selection
.
If you select
Year to Date
then automatically the period selected will be from the start of financial year to the current date. If you want to see a particular account then click the button
Select A/C
, it will present a list of accounts and you can easily select the one you desire by a click. But if you want to see all the accounts' daily balance then you will have to select the button
Select All
.
After selecting the account a table will be displayed in front of you with the column headings Closing date, Day movement. For each date of the period the closing balance in debit or credit, as the case be, is displayed. You can also see the graph plotted between the Closing balance in Rs and day by clicking on the button
Graph
and from where you can take the print out of the graph .
To print the report refer
Print Using HiTech Print Engine