HiTech Financial Accounting Software
---
Overtime Register
Overtime Register, Employee Module, Employee Record
Full Version Only

Overtime Register;Employee Module; Employee Record - Auto Dealer Accounting Software, Call Accounting Software, Billing, Accounting software for Hotels - HiTech Financial Accounting Software Download - Accounting - Powerful and Easy accounting, Accounting Package, Free accounting, Company account Manager, solution for stock handling and billing management control, Barcode support inventory. No special barcode printer is required to print barcode. Small Business Accounting Software and Online Payroll Accounting, Small business accounting software that allows you to keep track of expenses, invoice clients and manage payroll, all online. Purchase business accounting.
Not Available in Compact Version of the software .
ineotr.bmp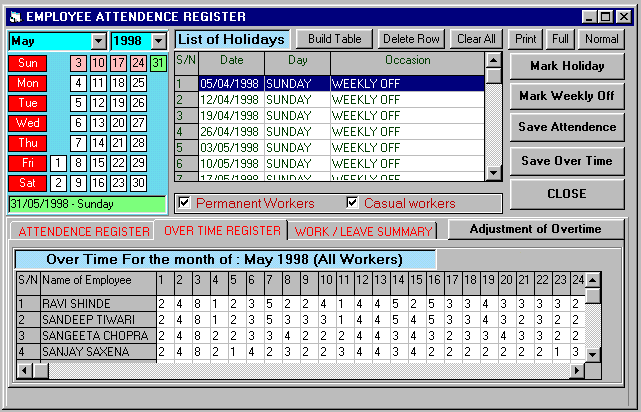 Overtime Register;Employee Module; Employee Record - Computerized Accounting System, Bar Code Inventory - Barcode Inventory Tracking Software Systems with Accounting - HiTech - Online Accounting Software, Business Accounting Package, A Web based Accounting Package designed to meet the requirements of small and medium sized business. This web based software is extremely handy in automating the routine accounting tasks. Online Accounting Solutions and Professional Internet Accounting, Find Accounting Solutions for professionals and businesses which will assist your company in tracking accounting and financial tasks. Global business management by web based applications.
To mark the number of overtime hours of any employee worked, select
Overtime Hours
option from the
Employee
menu. A window will be displayed which is having overtime register in the bottom side. This register displays the name of the employees and the dates of the month which is selected from the calendar. You can enter the number of overtime hours for the employees and save the information by clicking the button
Save Over Time
.
You can also adjust the overtime hours with the employee's absence. For this you have to select the
Adjustment of Overtime
button which is displayed above the overtime register. It will display a window, which shows name of the employee, week, work hours, overtime hours and adjusted overtime hours.
ineaot.bmp

Overtime Register;Employee Module; Employee Record - Accounting Software For Car Dealers, Customized Accounting Software and Website Development - HiTech Online | resources for accounting software systems, products, HiTech Online is a web resource that enables businesses looking for accounting software systems to research accounting software for various business segments, web based accounting software. HiTech Business Software - Point of Sale, Nonprofit and Accounting, HiTech Computer services provides accounting software, payroll, point of sale, job cost, e-commerce, nonprofit accounting, fund accounting, and business.
This option is used when you want to adjust the number of overtime hours of the employee with his absence. If you want to delete any of the employees record, you can select
Delete Row
button to do this. To save the adjustment of overtime hours with absence, select
Adjust OT and Save
button from the window. After making all entries, you can close this window by clicking on the button with a cross mark, which is displayed in this window. You will return to the overtime register.
You can maximize the overtime register by clicking on the button which is displayed second from the top right corner. If you want to change attendance register to its original size, click on the button which is displayed on the right corner.
To print click on the button which is displayed third from the top right corner.
For printing refer :
Print Using HiTech Print Engine
To close the overtime register window, select
Close
button.
Also see following related topics:
Daywise Attendance of Employees
Employees Work and Leave Summary