HiTech Financial Accounting Software
---
Monthly Salary Statement as per Daily Attendance
Monthly Salary Statement Daywise , Employee Module, Employee Record
Full Version Only

Monthly Salary Statement Daywise ;Employee Module; Employee Record - HiTech Inventory Tracking Software is a bar code inventory control solution that can be customized to meet specific needs, or can be used off the shelf as barcode accounting and inventory control. - HiTech Online | resources for accounting software systems, products, HiTech Online is a web resource that enables businesses looking for accounting software systems to research accounting software for various business segments, web based accounting software. HiTech Business Software - Point of Sale, Nonprofit and Accounting, HiTech Computer services provides accounting software, payroll, point of sale, job cost, e-commerce, nonprofit accounting, fund accounting, and business.
Not Available in Compact Version of the software .
inemss.bmp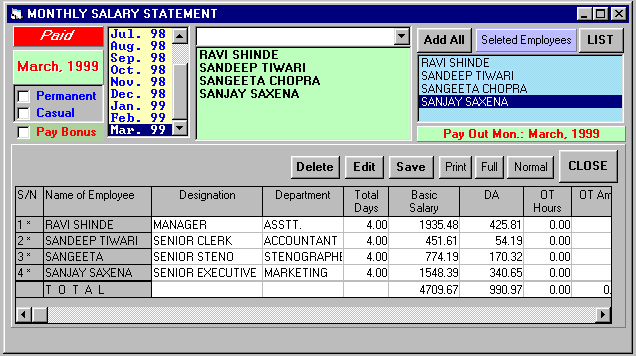 Monthly Salary Statement Daywise ;Employee Module; Employee Record - Visit for trial download of Financial Accounting software for Traders, Industry, Hotels, Hospitals, petrol pumps, Newspapers, Automobile Dealers, Web based Accounting, Business Management Software. - Free Accounting Lessons - Free Accounting Software Download, Accounting - sequential online bookkeeping lessons, Intro to Accounting - Simple - a complete online accounting course for beginners learning computerized accounting. Financial Accounting Software, (FAS), Web based Accounting, HiTech 's FAS (Financial Accounting software) is a web based accounting software for global access to your financial accounts. FAS can be used globally from any computer using internet browser.
To prepare Monthly Salary Statement (Daywise) use
Monthly Salary Statement( Day wise)
option under the
Employee menu
.
A window will be displayed showing the list of employees in the middle, you can categories the list by ticking either of the two checkboxes if you mark the checkbox
Permanent
list of permanent employees will be displayed, if you mark the check box
Casual
list of casual employees will be displayed or if both are marked list of all employees will be displayed as by default. You can select the month of the year from the second frame which consists of list of 12 month.
To make the monthly salary statement of selected employees from the list, you can click against the employee name and press the Insert key of the keyboard, by this action you will see the employee name under the selected employee list on the right panel. The another way to do the same operation is click the button
Add All
this will cause the whole list of employee name to be copied and from here you can delete unwanted employee names, for this click against name and press the Delete key of the keyboard.
Once the list of employees is ready, select the month for which monthly salary is to made. On the left hand side there is a scroll down list, listing month and year, you can reach to the desired month with the help of scroll bar and can easily select the month with a mouse click.
Click the button
List
of the Selected employee panel, if the monthly salary statement was already made and saved for that month then you will see a * sign after each employee name and if it was not made then it will do the processing now. The list of employees with other information such as Desgn, Dept, Total Days, OT hrs, OT amt, Balance, HRA, Conveyance, other additions and there total then deduction like Salary Adv, Loan, ESI, EPF, Net to Pay, Cash / Cheque#, Voucher no., Voucher date etc will be displayed in the lower frame.
If you want to delete the monthly salary statement of a month then for this click
Delete
button,
Edit
button can be used to edit a record and
Save
button is used to save the monthly salary statement of selected month.
You can maximize the detail list by clicking on the button which is displayed second from the right corner. If you want to change it to its original size, click on the button which is displayed on the right corner.
To print click on the button which is displayed third from the top right corner. For more help refer :
Print Using HiTech Print Engine
To close the window, select
Close
button.