HiTech Financial Accounting Software
---
Locate Transaction in Ledger
Locate Transaction In Ledger , Accounts Module
inaltil.bmp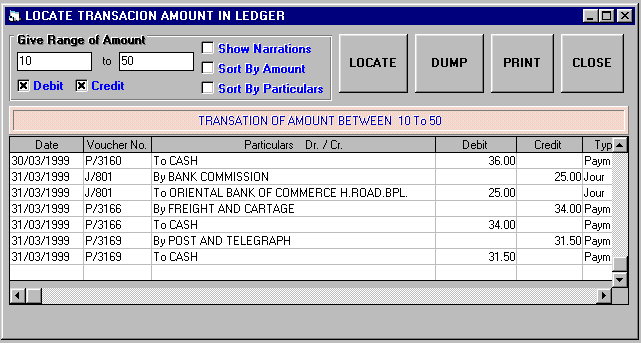 Locate Transaction in Ledger ; Accounts Module - Design Accounting Software, Accounting and Inventory Management Bar Code Tracking Software - HiTech Financial Accounting Software Download - Accounting - Powerful and Easy accounting, Accounting Package, Free accounting, Company account Manager, solution for stock handling and billing management control, Barcode support inventory. No special barcode printer is required to print barcode. Small Business Accounting Software and Online Payroll Accounting, Small business accounting software that allows you to keep track of expenses, invoice clients and manage payroll, all online. Purchase business accounting.
To search the given transactions amount in the ledger
Locate Transactions in the Ledger
is very useful tool given in main menu heading
Accounts / Accounts Tools
. This tool will help you to see the different transactions for particular amount, for Debit only, for Credit only and for both Debit / Credit. You can sort the different transactions by three options sort by narrations, sort by amount and sort by particulars. This tool will display Date, Voucher No., Particulars Dr/Cr, Debit Rs., Credit Rs. And Type of Voucher.
When you will click on menu command
Locate Transactions inLedger,
a window will be opened with the title Locate Transactions amount in Ledger. Enter two amounts in the given text boxes under heading
Give Range of Amount.
If these two text boxes are empty or have zero, a message will be displayed as " Neither of Two Ranges can be Zero ".After entering of amount press command button
Process.
All the vouchers having amount within given range will be displayed.
There are two check boxes are given for
Debit
and
Credit.
If you select only Credit then all vouchers having range of amount in credit will be displayed or if you select Debit then entries for debit amount will be displayed after pressing command button
Process
.
You can also see the different transactions sorted by narrations, amount or particulars. If you wish to sort the transaction by narrations then check the check box
Sort By Narrations
, if you wish to sort by amount the select check box
Sort By Amount
or if you want to do sorting by particulars then check the check box
Sort By Particulars
. To see the affect of selected sorting method press command button
Process
.
You can also dump the ledger for any period by pressing the command button
DUMP
. The debit and credit total should match for any period. If there is any error the program will detect the transaction creating the difference and prompt you for corrective actions although such differences will be very rare to occur.
For printing help please refer to :
Print Using HiTech PrintEngine
To close the report press command button
Close
.