HiTech Financial Accounting Software
---
Journal : Listing of Vouchers
Journal, Accounts Module
inajrn.bmp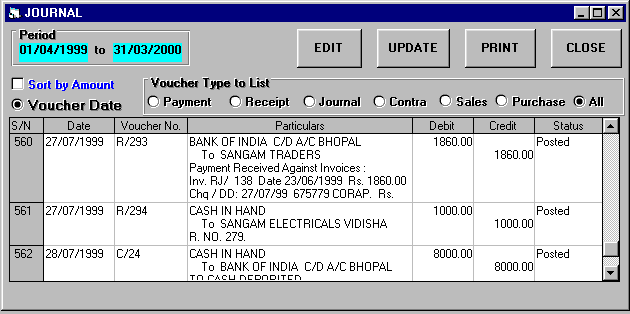 Journal; Accounts Module - Accounting Software For Hotel, Customized Accounting Software and Website Development - HiTech Financial Accounting Software Download - Accounting - Powerful and Easy accounting, Accounting Package, Free accounting, Company account Manager, solution for stock handling and billing management control, Barcode support inventory. No special barcode printer is required to print barcode. Small Business Accounting Software and Online Payroll Accounting, Small business accounting software that allows you to keep track of expenses, invoice clients and manage payroll, all online. Purchase business accounting.
The basic book of accounting is called Journal. Precisely it is the book of prime entry or the day book. The daily transactions are recorded in it. The process of recording the transaction into journal is called is "journalising". Here all the transactions made through vouchers are recorded. In computerised accounting the journal can be prepared any time using the voucher entries as per requirement. The sales, purchase and associated returns are not recorded in journal and they have separate book of their own.
To display list of vouchers or Journal give Menu Command
Journal
. Journal window will be displayed. By default the journal is displayed for last one week. This period is displayed in the frame marked period.
Press the appropriate option button if you want to list vouchers of only one type from the four : Payment, Receipt, Journal & Contra. If you want to list all vouchers press the command button All.
Any period can be selected for displaying journal of that period. To select period press option button
Voucher Date
. Enter the two dates in the text boxes which will be displayed, for help refer
Period Selection
. Press command button
OK
. The Vouchers of the type selected will be displayed for that period along with the narrations in the grid.
If you want to print or edit any journal entry then first bring that particular voucher to focus in the grid by using tab and arrow keys or click it with the mouse in the grid. Once the voucher is in focus then press command button
Edit
. That voucher will be opened for edit. Edit / Print the voucher like you edit any other voucher. When you close the Edit window you will return to journal. Any changes which you made in the vouchers will not be reflected in the journal until you prepare the journal again by pressing the appropriate option button.
All vouchers when they are created are posted in the ledger automatically if the Post Ledger Automatically check box is checked in the invoicing preference setup. If any voucher is not posted in the ledger (status : Open) it can be posted by pressing the command button
Update
.
To print the report refer
Print Using HiTech Print Engine