HiTech Financial Accounting Software
---
Account Heads Comparison
inacah.bmp
Account Heads Comparison - Business Management and Accounting Software for Hotels, Restaurants, Motels, Guest Houses. Modules : Rooms, Visitors, Restaurant, Payroll, Accounts & Utilities. Free Trial Download. - HiTech - Online Accounting Software, Business Accounting Package, A Web based Accounting Package designed to meet the requirements of small and medium sized business. This web based software is extremely handy in automating the routine accounting tasks. Online Accounting Solutions and Professional Internet Accounting, Find Accounting Solutions for professionals and businesses which will assist your company in tracking accounting and financial tasks. Global business management by web based applications.
Compare Account Heads is a module that compares one account head with other account heads. To perform this function select the option
Account Heads Comparison
from the menu option
Accounts / Accounts Analysis
.
A window will be displayed you will have to first select the account heads to be compared, for this click the button
Select A/C
.
A new window will be displayed with the list of all account heads on the left hand side. You can select the desired accounts by a double click on it, the selected account heads will be listed under
Selected Account Heads
. The comparison of all selected account heads will take place with respect to the first account head, individually. The selected list can be cleared by a click on the button
Clear list
. To successfully come out of window, after selection click the button
OK
. If you are not interested to continue click the button
Cancel
.
You will return back to the previous window. Internal processing of comparison will be represented by the movement of gauge. In the grid the account heads will be enlisted under the column A/C name, except for the first account head rest all accounts will have two rows one for Dr/Cr value and the other for the comparison in terms of percentage. All these values will be obtained for each month of the financial year.
inacahg.bmp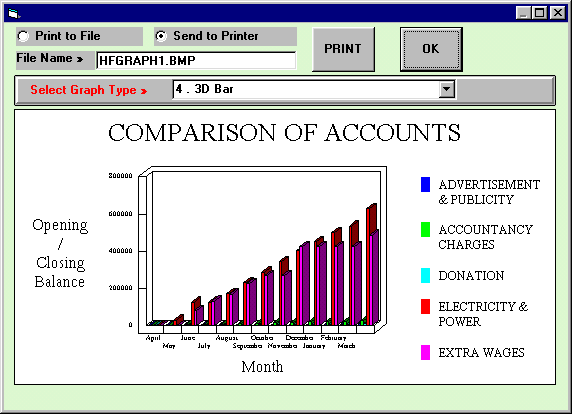 Account Heads Comparison - Computerized Accounting System, Bar Code Inventory - Barcode Inventory Tracking Software Systems with Accounting - HiTech Online | resources for accounting software systems, products, HiTech Online is a web resource that enables businesses looking for accounting software systems to research accounting software for various business segments, web based accounting software. HiTech Business Software - Point of Sale, Nonprofit and Accounting, HiTech Computer services provides accounting software, payroll, point of sale, job cost, e-commerce, nonprofit accounting, fund accounting, and business.
If you want, you can see the graph plotted between opening/closing balance and month for this click the button
Show Graph
.
To print the report refer
Print Using HiTech Print Engine