HiTech Financial Accounting Software
---
Bank Interest Calculation
Bank Interest Calculation, Accounts Module
inabicr.bmp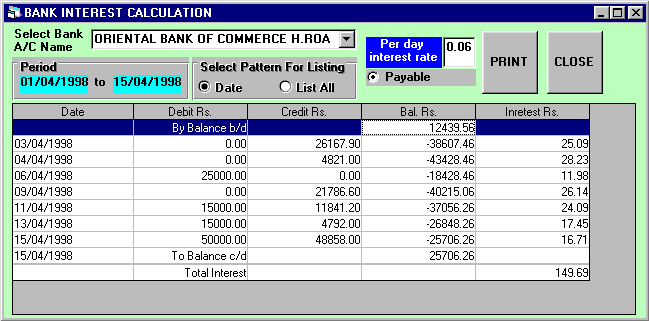 Bank Interest Calculation; Accounts Module - Accounting - sequential online bookkeeping lessons, Intro to Accounting - Simple - a complete online accounting course for beginners learning computerized accounting. - HiTech Group: Accounting software, business management software, Security Industry accounting software, Alarm dealer accounting software, systems integrator accounting software, AlarmKey software and job cost software, accounting software for hotels, hospitals. HiTech - Business Accounting Software, Invoicing, Inventory Control Software, HiTech - Business Accounting Software. HiTech is a premium Business Accounting Software providing comprehensive computerized accounting for any kind of entity.
To see the Bank Interest on balance amount select menu command
Bank Interest Calculation
under main menu heading
Accounts
. It displays Date, Debit, Credit, Balance and Interest.
To select name of bank account click on drop down list of bank accounts and select desired account name. You can display the Bank Interest statement for any period click option button
Date,
please refer the date help :
Period Selection
enter two dates in given text boxes. The report will be displayed for the time period and bank account name. You have to specify the interest rate in given text box named
Per Day Interest Rate.
Interest will be calculated automatically.
If you click option button
List All
then the interest statement for the complete financial year will be displayed for the selected account.
To print report please refer to :
Print Using HiTech Print Engine