HiTech Financial Accounting Software
---
Printing of Cheques
Printing Of Cheques, Cheque Printing, Accounts Module
ChequePrintingInfo.bmp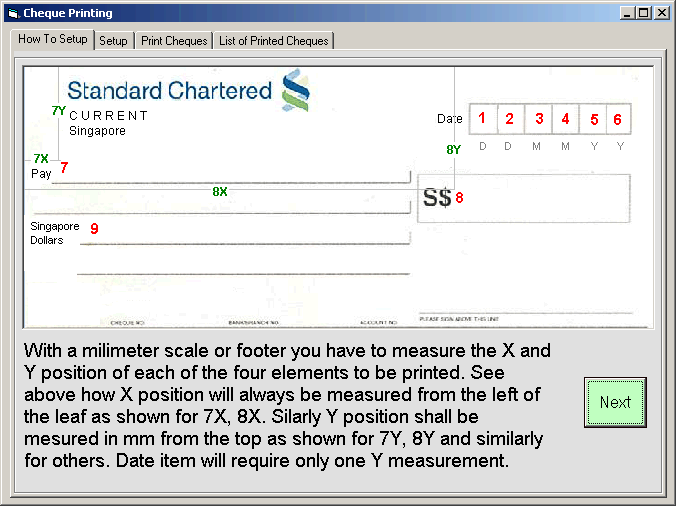 Printing of Cheques;Cheque printing; Accounts Module - Applications Accounting, HiTech Bar Code Business Accounting Software: Find, Compare, Read Reviews & Buy - HiTech - Online Accounting Software, Business Accounting Package, A Web based Accounting Package designed to meet the requirements of small and medium sized business. This web based software is extremely handy in automating the routine accounting tasks. Online Accounting Solutions and Professional Internet Accounting, Find Accounting Solutions for professionals and businesses which will assist your company in tracking accounting and financial tasks. Global business management by web based applications.
To print cheques from the database or by making direct entry give Menu Command
Cheque Printing
. A window will be displayed. with four tabs marked with their function.
The first tab is marked
How to Setup
and it shows how to setup printing on a cheque. The following information is printed on the cheque: Cheque date, Pay to name, amount in figures and amount in words. You have to measure left and top or X and Y axis points for these four elements. To see how this is done press command button marked
Next
showing these four elements and their positions to be recorded for printing.
You have to measure the distances marked on the cheque as a x and y point. Take a mm (millimeter) scale and on the leaf of cheque mark these four elements' stating point. After that measure the distance from left or X position and distance from top that is Y position of each element. It is clearly shown in the four images of How to Setup tab.
ChequePrintingSetup.bmp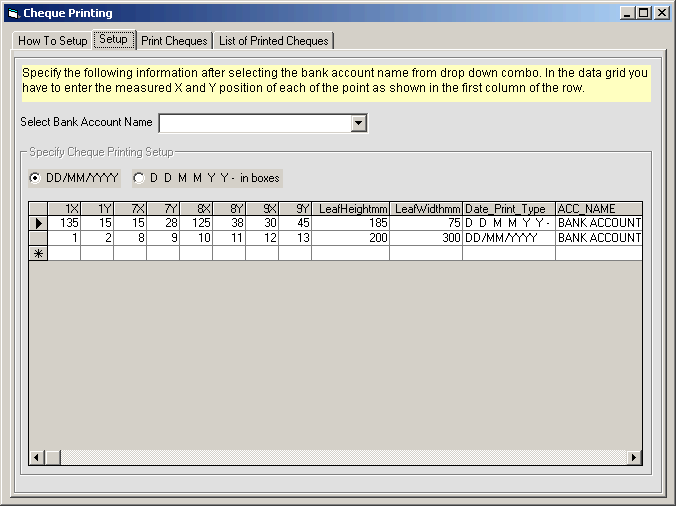 Printing of Cheques;Cheque printing; Accounts Module - Accounting Software Tally, Accounting Software from #1 Small Business Financial Software - HiTech Online | resources for accounting software systems, products, HiTech Online is a web resource that enables businesses looking for accounting software systems to research accounting software for various business segments, web based accounting software. HiTech Business Software - Point of Sale, Nonprofit and Accounting, HiTech Computer services provides accounting software, payroll, point of sale, job cost, e-commerce, nonprofit accounting, fund accounting, and business.
The second tab is marked
Setup
and it shows printing setup for a cheque of the selected bank account. First select the bank account for which you are setting up the cheque. Select the bank account from the drop down combo. Its setup record shall be displayed in the data grid shown below.
In the data grid type the x and y position of the four points. You can print the date on the cheque in either DD/MM/YYYY format or in D D M M Y Y format in boxes. Select the date format and for date printed in boxes you have to specify some additional x positions. When you have typed all data in the data grid then move the cursor to data record below and previous data record shall be saved automatically.
If you have more than one bank account and their cheques differ in layout then you must specify the cheque printing setup for the other bank accounts too. If the cheques are same then you can copy the setup values for another bank account.
Cheque setup must be defines for all bank accounts. Once you have defined the cheque you can print the cheques for that bank account on your preprinted cheque stationary.
ChequePrinting.bmp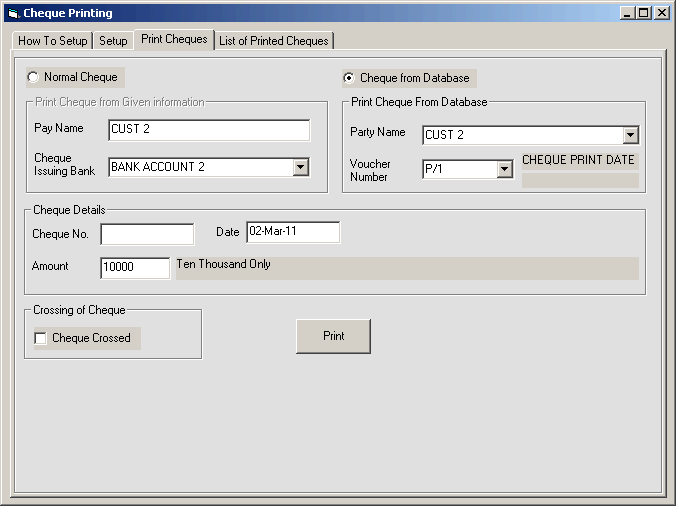 Printing of Cheques;Cheque printing; Accounts Module - Accounting Spreadsheets, Accounting Software, ERP, CRM Software for Business - Free Accounting Lessons - Free Accounting Software Download, Accounting - sequential online bookkeeping lessons, Intro to Accounting - Simple - a complete online accounting course for beginners learning computerized accounting. Financial Accounting Software, (FAS), Web based Accounting, HiTech 's FAS (Financial Accounting software) is a web based accounting software for global access to your financial accounts. FAS can be used globally from any computer using internet browser.
To print cheques press tab marked
Print Cheques
. The cheques can be printed in two ways. Normal cheques can be printed by specifying the four elements and by printing on blank cheque. The cheque values can also be fetched from the database from the payment voucher made for that bank.
To print normal cheque press option button
Normal Cheque
. Type values in Pay To name,selct bank account name from drop down list. Specify Ceque Number, date and cheque amount. You have to specify the Cheque Number. Once all information is filled and the printer is ready then press command button marked
Print
to print the cheque.
To get cheque details from database first select the option button marked Cheque from Database. The frame for party name and voucher number selection shall be enabled. Here first select the party name from the drop down combo. Here only those names will show that have a bank payment voucher made. After selecting the party name select the voucher number. When you select the voucher number all information about the cheque shall be automatically filled in the fields. You have to specify the Cheque Number. Once all information is filled and the printer is ready then press command button marked
Print
to print the cheque.
All printed cheques are save in database and can be viewed later.
ChequePrintedList.bmp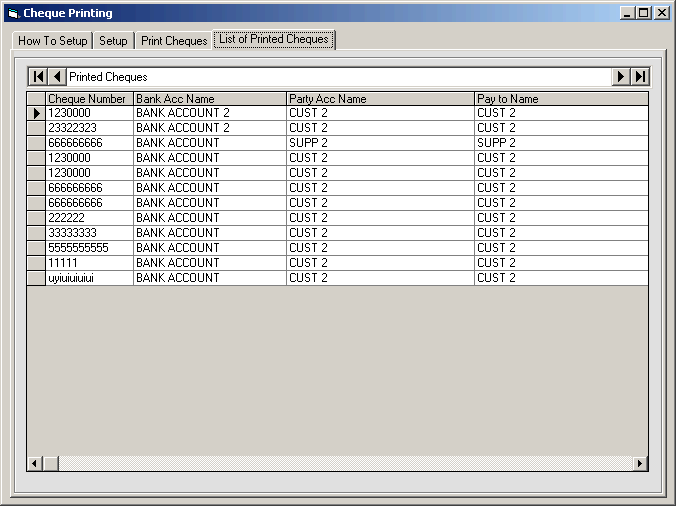 Printing of Cheques;Cheque printing; Accounts Module - Double Entry Accounting Software, Bar coding with HiTech Accounting and Inventory Software: Inventory Control - HiTech Group: Accounting software, business management software, Security Industry accounting software, Alarm dealer accounting software, systems integrator accounting software, AlarmKey software and job cost software, accounting software for hotels, hospitals. HiTech - Business Accounting Software, Invoicing, Inventory Control Software, HiTech - Business Accounting Software. HiTech is a premium Business Accounting Software providing comprehensive computerized accounting for any kind of entity.
To view the printed cheques press the tab marked List of Printed Cheques. Here in the data grid all the printed cheques are listed along with the date of printing.