HiTech Financial Accounting Software
---
Employees Provident Fund Reports
EPF Reports, Employee Module, Employee Record
Full Version Only

EPF Reports;Employee Module; Employee Record - Best Accounting Programs, Industry Management Software, Accounting Software for Industry - HiTech Financial Accounting Software Download - Accounting - Powerful and Easy accounting, Accounting Package, Free accounting, Company account Manager, solution for stock handling and billing management control, Barcode support inventory. No special barcode printer is required to print barcode. Small Business Accounting Software and Online Payroll Accounting, Small business accounting software that allows you to keep track of expenses, invoice clients and manage payroll, all online. Purchase business accounting.
Not Available in Compact Version of the software .
indepf.bmp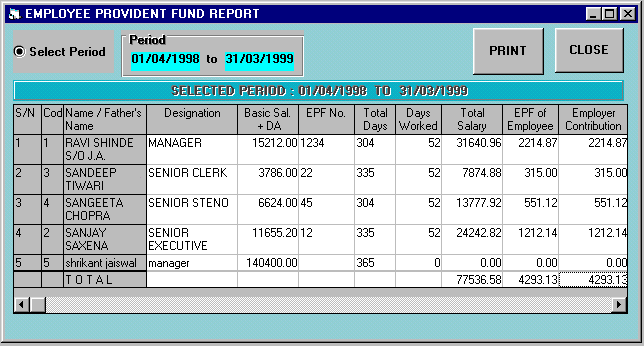 EPF Reports;Employee Module; Employee Record - Accounting Business Software, E-Commerce and Internet based Global Accounting Software - HiTech - Online Accounting Software, Business Accounting Package, A Web based Accounting Package designed to meet the requirements of small and medium sized business. This web based software is extremely handy in automating the routine accounting tasks. Online Accounting Solutions and Professional Internet Accounting, Find Accounting Solutions for professionals and businesses which will assist your company in tracking accounting and financial tasks. Global business management by web based applications.
To obtain the EPF (Employee Provident Fund) report use the option
EPF Report
under the Employees menu. When you will do this an EPF report window will be displayed, you will have to select the period for which you want the EPF report. When you will click the
Select
button, a window will be displayed with default period if you want to change you can change it. For selecting period refer :
Period Selection
You will see the list of employees with the following information : Designation, Basic+DA, EPF of employee, Employer contribution, Daily wages.
If you want to take the print out of the EPF report click the
Print
button, a dialogue box will be displayed with the message
Printing EPF report ?
you can select
Yes
to continue,
No
to discontinue printing .
To come out of the EPF report window click the button on right hand side of the Print button.