HiTech Financial Accounting Software
---
Perform Data Test
Perform Data Test, Utility Module
inidtab.bmp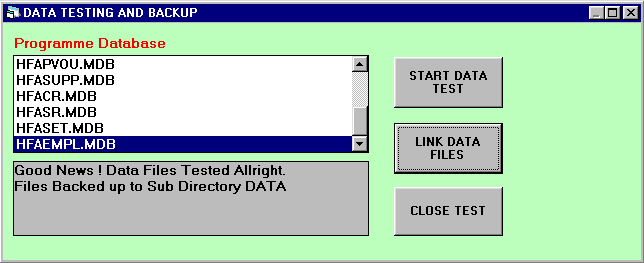 Perform Data Test; Utility Module - We develop web based applications and Financial Accounting and Business Management software for Trading, Industry, Hotels, Hospitals, Supermarkets, petrol pumps, Newspapers, Automobile Dealers etc…. - HiTech - Online Accounting Software, Business Accounting Package, A Web based Accounting Package designed to meet the requirements of small and medium sized business. This web based software is extremely handy in automating the routine accounting tasks. Online Accounting Solutions and Professional Internet Accounting, Find Accounting Solutions for professionals and businesses which will assist your company in tracking accounting and financial tasks. Global business management by web based applications.
After opening the desired company and entering user name and password a message will be displayed to perform the data test. If you want to testing the data then press
Yes
or if you do not need to perform the data test then press
No,
main menu window will be displayed. If you press
Cancel
then you will come out of the program. If you want to testing the data between the running of the program you have to option available in the
Utility Menu
Perform Data Test
you choose that option and the testing process will be start automatically.
Data Testing is used to check the data integrity. It checks each data file that it is error free or not. If data test performed successfully then the data files will be copied to the sub directory named DATA automatically. You can take data files from this directory in case of error occurred. During data testing if there is any error found that it displays message and repairs the data files.
After data testing the linking of data files can be done by pressing command button
Link Data Files.
It is used to link data in files.
To close the data testing window press command button
Close Test
after completing the data testing.