HiTech Financial Accounting Software
---
Bar Code Label Printing Utility
Full Version Only

Bar Code Label Printing Utility - Search for accounting software software by industry, operating system or application. Or browse alphabetical listings based on software product or user segments like traders, hotels, hospitals, industries. - Free Accounting Lessons - Free Accounting Software Download, Accounting - sequential online bookkeeping lessons, Intro to Accounting - Simple - a complete online accounting course for beginners learning computerized accounting. Financial Accounting Software, (FAS), Web based Accounting, HiTech 's FAS (Financial Accounting software) is a web based accounting software for global access to your financial accounts. FAS can be used globally from any computer using internet browser.
Not Available in Compact Version of the software .
To print bar code labels give the menu command named Print Barcode Labels Utility. The following window shall open:
BarcodeLabelPrinting.bmp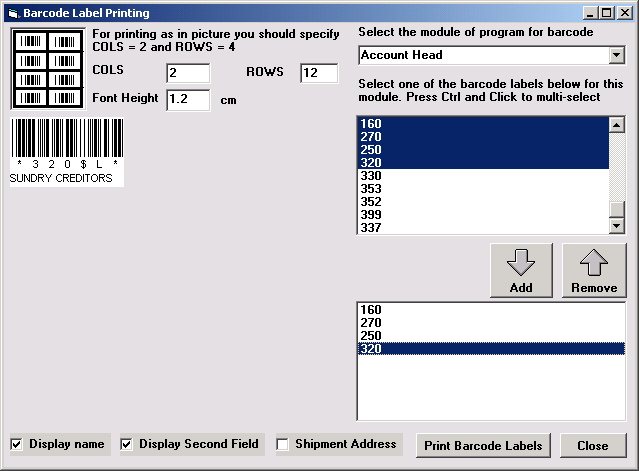 Bar Code Label Printing Utility - HiTech BarCode software offers the most flexibily in generating barcodes for Microsoft Windows applications. Print bar codes on any printer. No special fonts are required. Comes with accounting and inventory control. - HiTech Group: Accounting software, business management software, Security Industry accounting software, Alarm dealer accounting software, systems integrator accounting software, AlarmKey software and job cost software, accounting software for hotels, hospitals. HiTech - Business Accounting Software, Invoicing, Inventory Control Software, HiTech - Business Accounting Software. HiTech is a premium Business Accounting Software providing comprehensive computerized accounting for any kind of entity.
You can select the the module of program for barcode from the drop down list. The available record shall be displayed in the list below. You can select records from this list and press command button marked with a down arrow to add these items in the printing list further below. Press command buttons marked Print Barcode Labels to print.
First add the item to the print list using the add item button. You must first select items in the selection list on top. You can use ctrl key to multi select items. When you have the required items in the print list then press the command button marked Print Barcode Labels.
Options in printing of bar code
Display Second Field option allows you to print or not to print second field in the barcode. The second field is usually date or price for product and is printed after the first field after $ character. The fields are separated by the program automatically. Use of second field as product price is important and it gives product price in the invoice overriding the product price in the record. If you do not want to print send field uncheck the option marked Display Second Field. This option is stored and used elsewhere in the program.
BarcodeFontHeightGen.bmp

Bar Code Label Printing Utility - Accounting Consultants, Small Business Management Software, VAT Accounting Software, Invoicing Software - HiTech Financial Accounting Software Download - Accounting - Powerful and Easy accounting, Accounting Package, Free accounting, Company account Manager, solution for stock handling and billing management control, Barcode support inventory. No special barcode printer is required to print barcode. Small Business Accounting Software and Online Payroll Accounting, Small business accounting software that allows you to keep track of expenses, invoice clients and manage payroll, all online. Purchase business accounting.
A bar code with a second field included.
BarcodeFontHeightGen.bmp
Bar Code Label Printing Utility - Accounting Software For Brokers, Offshore Software Development, Accounting software, Web Applications - HiTech - Online Accounting Software, Business Accounting Package, A Web based Accounting Package designed to meet the requirements of small and medium sized business. This web based software is extremely handy in automating the routine accounting tasks. Online Accounting Solutions and Professional Internet Accounting, Find Accounting Solutions for professionals and businesses which will assist your company in tracking accounting and financial tasks. Global business management by web based applications.
A bar code without a second field included.
If you want to also display the name in English below the barcode you check this option named Display Name.
Printing Shipment Label
When you select a transaction that has a shipment address associated with it it shall be printed along with the barcode label for the invoice or transaction. You can select the shipment labels separately as these shall be having more height than just barcode labels with name.
BarcodeShipmentLabelPrint.bmp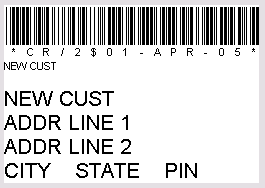 Bar Code Label Printing Utility - Business Accounting Software, Auto Dealer Software, Car Dealership Software, Accounting Software) - HiTech Online | resources for accounting software systems, products, HiTech Online is a web resource that enables businesses looking for accounting software systems to research accounting software for various business segments, web based accounting software. HiTech Business Software - Point of Sale, Nonprofit and Accounting, HiTech Computer services provides accounting software, payroll, point of sale, job cost, e-commerce, nonprofit accounting, fund accounting, and business.
Bar Code Font Height
Specify the barcode font height in the text box marked Font Height in cms. This barcode font height is only used for printing on the labels and you can use an height between 1.0 to 2.5 cms. for easy and fast scanning.
Paper Size
Specify your paper size as per number of labels in rows and columns on the A4 size paper you the paper selected on your printer. For giving the cols check how many labels you have widthwise on the paper. For giving the rows check how many labels you have on the height of the paper. If the barcode label can not printed on the individual label size selected by you the program will warn you until you enter correct size labels. Off course you can print plain paper just use the values suggested for row and col.